Otelia Cromwell
Otelia Cromwell is the first known African-American student to graduate from Smith College. Cromwell transferred to Smith in her junior year from Howard University in 1898. She lived with professor of Greek, Julia Caverno, a member of the class of 1887, on Roundhill Road and later at 275 Main Street. After receiving advanced degrees from Columbia and Yale University she returned to Washington, D.C. to supervise teachers of English and history in the public schools. Eventually, she was appointed professor of English at Miner Teachers College. Cromwell was a prolific writer about education, publishing many articles in scholarly journals. She edited Readings from Negro Authors, one of the first anthologies of the literary contributions of African-American writers. Late in her life her biography of Lucretia Mott was published by Harvard University Press.
Otelia Cromwell was awarded an Honorary degree at Smith College in 1950 during the Anniversary celebration of the College. The story of her nomination began 10 years earlier with a nomination from a textbook salesman who knew Cromwell well. When Cromwell's nomination was rejected that year, Julia Caverno and members of the Class of 1900 continued to press for her nomination throughout the 1940s. On June 5, 1950 she received an honorary LLD.
Her citation reads: "She returns to Smith College with a rich and satisfying record of achievement in the teaching of English literature and the supervision of secondary education...As teacher and as scholar she has communicated to her students a perceptive appreciation of literature, has led through her own insight to a better knowledge of themselves, their talents and potentialities, and by example even more than by precept has demonstrated that the fundamental values of scholarship are also those of humane living--integrity, tolerance, and sympathetic understanding." [Honorary degree citation read by Benjamin F. Wright]
Otelia Cromwell died in 1972.
Otelia Cromwell Day
When Otelia Cromwell became Smith's first African-American alumna nearly a century ago, she hardly could have imagined that her spirit would live on in an important annual celebration named in her honor. Each year, since 1989, Otelia Cromwell Day has offered students, faculty and staff an opportunity to briefly step away from their usual pursuits in order to explore the issues of racism, diversity and community and how they affect us here at Smith and beyond.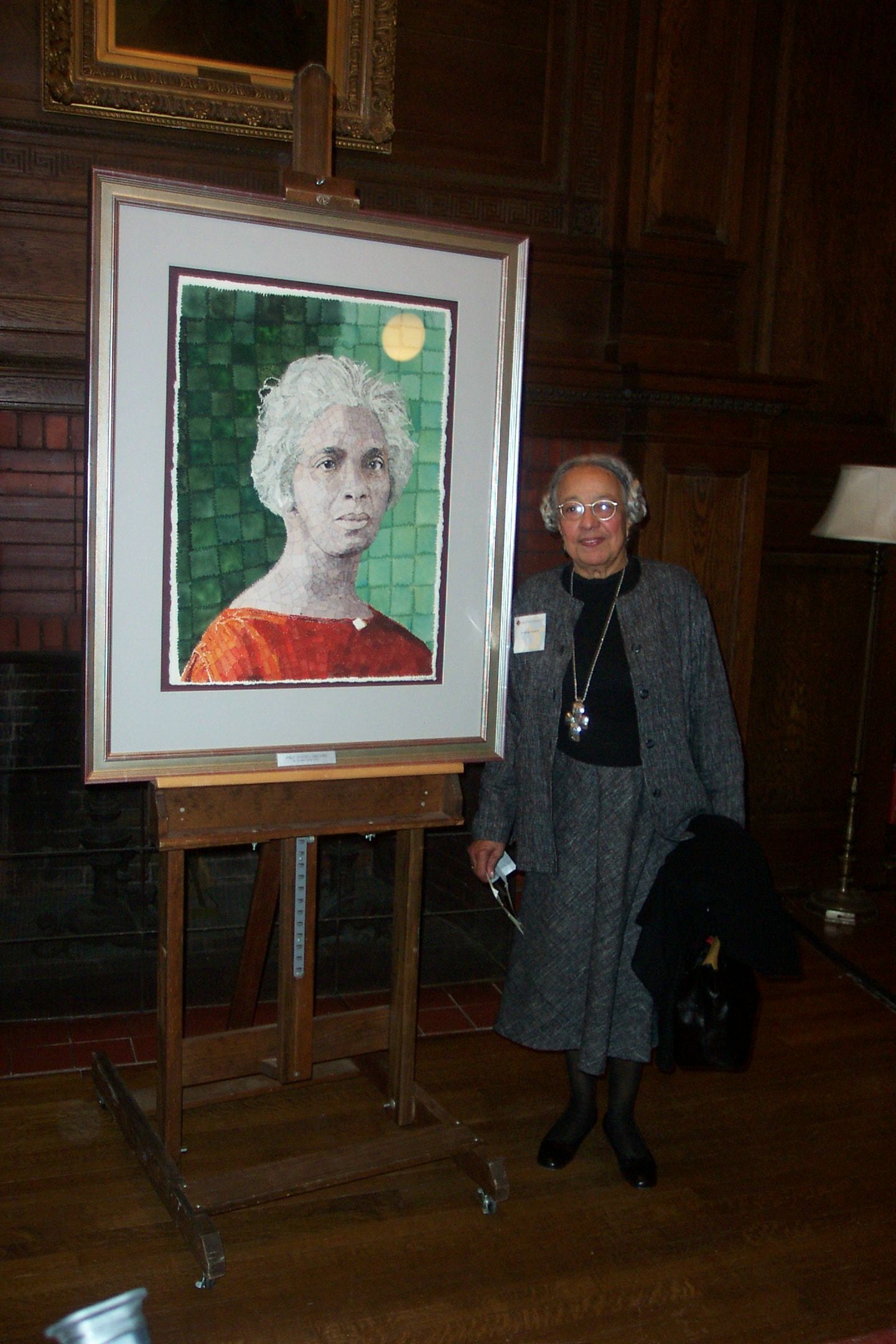 The unvailing of the new photo of Otelia Cromwell. Here stands the neice of Otelia Cromwell, who was the guest speaker for the cermony of the unvailing of the new portrate that hangs in Nelison Library Browsing room at Smith College.