Smith in the News 2004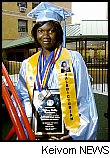 Tiffany Schley, who just graduated high school with top honors and is on her way to Smith College on a full scholarship, told some hard truths in her valedictorian speech at the High School of Legal Studies graduation ceremony. With the enthusiastic backing of her fellow students, Tiffany blew the whistle on the Bushwick, Brooklyn school's overcrowded classrooms, lack of textbooks and other basic materials, unqualified teachers, frequent turnover in staff and indifferent administrators who refuse to meet with students to discuss their grievances. In other words, this courageous seventeen-year-old said a mouthful!

Tiffany, is currently enrolled at Smith College as a member of the class of 2004. Below you can find other web links about Tiffany.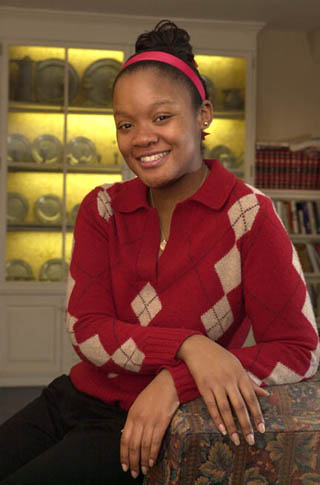 Smith In the News
Smith: College works to increase diversity
01/12/02: Dawn R. Daniel of Brooklyn, N.Y., a senior at Smith College in Northampton, said that her first year on campus was one of incredible isolation and loneliness. The college is taking steps to address what it sees as a serious campus problem: the low number of black students.
(Picture ~ Vice-Char of 2002-2003 year)
CREATIVE CORNER

looking for love-------------

i'm looking for love in all the wrong places,
what a cliché that happens with so many faces.
i'm looking around in guys with girlfriends,
what am i thinking that for me it will end.
i'm looking deep down in the "playa" type,
what will his hoes do when i become the hype,"yeah
right."
i'm looking in believed special eyes and all i see,
what definitely is not love looking back at me.
i'm looking to find an answer somewhere in all this,
what i've found so far is a boring game of hit and miss
i'm looking at life straight, square in the eyes,
what it shows me is nothing but lies.
i'm looking ahead to that sunshiny day,
what mouth will open and those three special words truthfully say.
i'm looking in all the corners of this big earth,
what seems to be an unending search.
i'm looking under rocks and even the sea,
what creature may hold my unlocking key.
i'm looking for it in everything that's real,
what all happens to be fake to the feel.
i'm looking face to face at reality and asking it how,
what i find is God saying be still child you are not ready now.
---ra